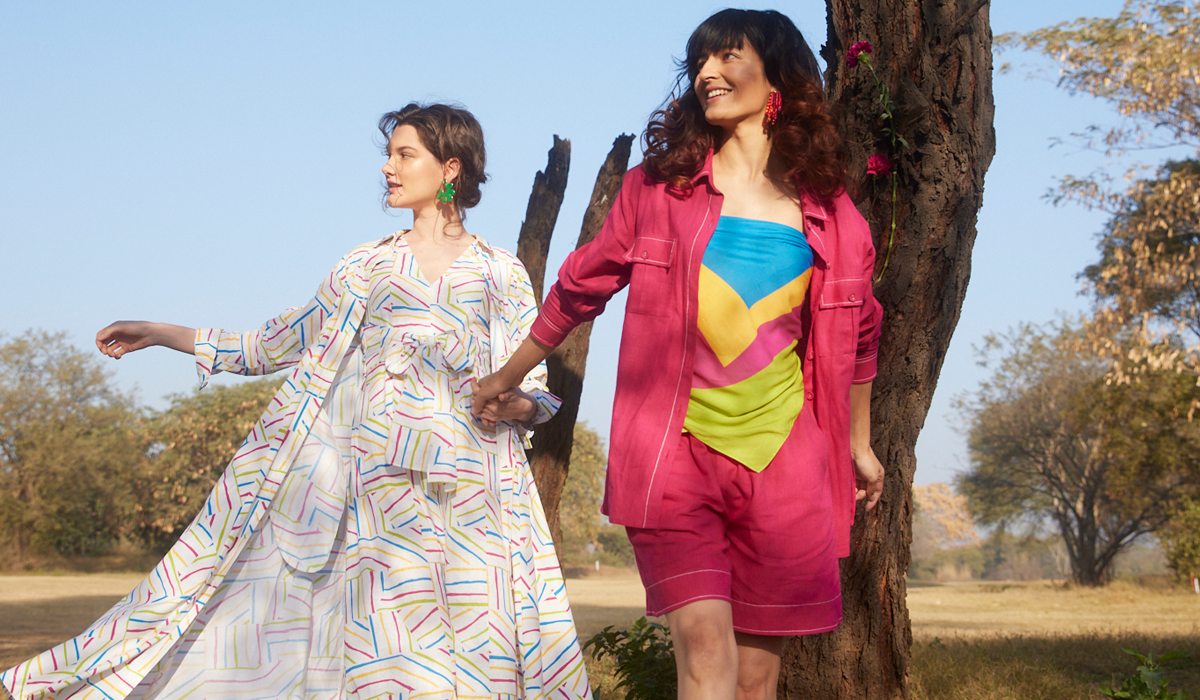 5 natural fabrics to style this summer
Summer is here with its unbearable heat, but it also brings in the little joys of relishing a popsicle, drinking ice-cold lemonades to quench our thirst and getting an afternoon nap in a chilled room. Its the season we value comfort over everything including our fashion choices and style.
While the silhouettes get wider and fits become oversized, the most important aspect of comfortable clothing in summer is the choice of fabrics. Fabrics that are lightweight, breathable materials that are easy to wear and style. In a country like India, where the heat can be intense, choosing the right fabric can make all the difference. Here are our top 5 summer fabrics to style this season
1. Cotton
A classic summer fabric, cotton is lightweight, breathable, and versatile. It's perfect for hot and humid weather and can be styled in numerous ways, from casual to formal wear. It is also easy to maintain and can withstand frequent washing without losing its shape or color. Check out our latest Spring-Summer collection with beautiful A-line dresses, short co-ords, and relaxed jumpsuits all in 100% cotton.
2. Hemp
A sustainable and durable material, hemp is lightweight, breathable, and moisture-wicking. It's ideal for outdoor activities and can withstand the heat and humidity of summer. It also has a unique texture that adds character to any outfit. We explored this new-age natural fabric in our Zoey co-ords and Chloe dress, creating some of our favorite pieces.
3. Linen
A timeless fabric, linen has been used for centuries, especially in hot climates. Linen is hypoallergenic and has natural antibacterial properties, which help to prevent odors. Our Linen co-ords are easy to style and can be dressed up or down depending on the occasion.
4. Linen Satin
A luxurious fabric, linen satin combines the softness of satin with the breathability of linen. It's ideal for summer evening wear, as it's lightweight and has a beautiful drape. Hypoallergenic, with natural temperature-regulating properties to keep you cool and comfortable in the heat linen satin is your go-to summer sundowner style. Explore our beautiful kaftan dresses, co-ords, summer capes, and more.
5. Viscose
Viscose is perfect for summer fashion. It has a silky texture and drapes beautifully, making it ideal for flowy summer dresses and relaxed jumpsuits. It is breathable and lightweight and especially durable and easy to care for.
At Kanelle we only use natural fabrics that are biodegradable and do not harm the environment. Summers allow us to experiment with more sustainable fabrics which are great for the body. Since they are made from plant-based fibers, these fabrics are gentle on the skin and do not cause allergies or irritations, making them perfect for people with sensitive skin. Choosing sustainable and natural fabrics like cotton, hemp, linen, linen satin, and viscose not only ensures that you feel comfortable and stylish but also helps to reduce your carbon footprint and promote a healthier lifestyle. So this summer choose style and comfort both!

Does Fashion Discriminate? An art form made for self-expression and self-love, unfortunately, hasn't been accepting enough of diversity.  Designs that are meant to empower you, and make you feel co...
Read more

t's the time of the year to pack our bags, embark on thrilling adventures, relax at a scenic destination, and explore the beauty of new places.  With travel, comes the need of curating a wardrobe t...
Read more